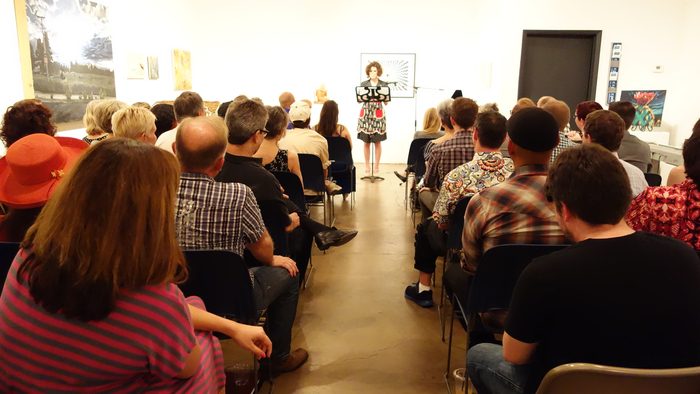 To Be a Working Artist:
Creating a Career in the Arts
---
In this hour-long talk, Crista Cloutier explores the journey of the artist, how one finds voice, develops it, and uses it to create a professional career as a working artist.
Crista uses her own background as an arts dealer, curator, publisher, writer and artist to illustrate her message of the importance of practice, authenticity, and the coupling of tenacity with audacity. She also speaks of the countless artists she has collaborated with, both blue-chip and just-emerging, and the lessons they have taught her about devotion to craft and work. 
The Art of Crowd Funding
---
Crowd funding is fast becoming one of the most popular ways for artists and creatives to raise money.
But is it as easy as it sounds? What's involved in a crowd funding campaign?
In this hour-long talk or half-day workshop, Crista Cloutier discusses the recent trends in crowd funding as she reveals the successes and challenges faced during her recent Indiegogo project.
Workshop participants will leave with an action plan ready to put into place.
What is crowd funding and how does it work?

How to choose the right platform


Forming your idea
so that you can share it with others

Creating a compelling message that resonates with an audience

How to create a budget
for people who hates budgets

The importance of planning and implementation (it's vital)

Creating your network
 and galvanizing them to action

Incentives
can make or break your campaign

The hidden values of crowd funding and how to succeed even if you lose

Dealing with failures and setback


Secret tips and tricks for success
Project Planning for The Artist Brain
---
Artists often find themselves the victim of their own ideas. They may have a flash of inspiration but are then left frustrated by being unable to see the idea through.
For many artists, ideas are easy to manifest but difficult to implement. This leads to feelings of overwhelm, frustration, and eventually procrastination.
In this unique hands-on workshop, Crista Cloutier will guide participants past that difficult first step and through the creation of a plan that will send them well on the way to completion. Artists will be given hands-on practical tools for creating a process that feels authentic, manageable and even, dare I say, fun.
Bring your own project idea and learn the Working Artist Project-Planning tools that will get you from idea through achievement. These tools can also continue to be used for other projects in the future.
In support of this 2.5 hour workshop, it will be necessary to have writing surfaces, several large sheets of paper for each participant, as well as sharpie pens, and self-stick notepads.
The Writer's Life
---
Craft. Voice. These are the writer's tools.
Craft is how we write. It is an understanding of the power of language and creating with the intentional placement of words.
Voice is what we write and, more importantly, why we write. It is the expression of self. It is the writer's most valuable tool.
In this transformational 2-day workshop students will participate in unique exercises to map their own journey as a writer.
Identify purpose and motives for writing 


Create professional goals and determine the steps necessary

to achieve them 


Commit to writing as an artistic practice 


Understand the remarkable power of inspiration and engage

more deeply with your imagination 


Learn to melt creative blocks 

"Having worked with Crista, I've had the opportunity to see how she somehow manages to simultaneously calm and challenge students who have something to contribute but are perhaps nervous about the what and the how.  With immense charm hiding her steely determination, she creates opportunities for participants at her workshops to both shine and to build confidence.   I can only conclude that this ability derives from her willingness to release conventional activities – albeit highly successful in her case – in order to free herself up for seeking her life's true purpose.  This is, it seems clear to me, to help others be the very best they can be through their creative activities. A remarkable woman."

Max Comfort, Facilitator, coach, author, artist.
"As a featured guest speaker over several years of teaching the business of the arts at Arizona State University, Crista is always the class favorite.  It's not just that she is incredibly experienced and profoundly knowledgable.  What makes her special is that the stories she shares and the insights she imparts are empowering to university students in ways that they rarely derive from people in academia.  Her unique talent is to reveal the realities, pitfalls and frustrations in the path ahead – yet do so in a way that emboldens emerging artists to take them on with smarts and passion.  I have no doubt that she has cut years off the learning curves of countless artists – and propelled a great many to success with her clear navigational guidance.

Matt Lehrman, Arizona State University
"It was our pleasure to have Crista join us for Artexpo New York 2016. She was an asset to our Topics & Trends Education Program and we received many positive comments about her presentations.  Her realistic approach and sound advice gives artists and anyone thinking about entering the art industry an excellent approach to finding success.  We look forward to having her as part of our program again in the coming year."

Linda Mariano, Managing Director Marketing, Redwood Media Group